Facilities Operators & Designers
Amateur Radio

The Tower Works and Radio Works R.F. Consulting look forward to the upcoming 160 Meter contests in December and January for both QRP and High Power. With the recent completion of repairs to the Clarence Beverage inverted dipole design, and SGC high power auto tuning capability, this amazing antenna with its 3 drooping skirts that are 180 feet long each and ring fed at the 300 foot level, is able to tune in all bands from 160 to 10 Meters. If you have an interest in utilizing this antenna system or other companion long wire sloping antennae, contact Gary ( KC-4-UDZ ) to set up a schedule for your contest activity.
HAMSTER PHOTO CAPTIONS
VIEW OF ONE OF THE 3 ELEMENTS OF THE CLARENCE BEVERAGE INVERTED VERTICAL H.F. DIPOLE.


VIEW OF THE UHF AND VHF COMBINED TOWER TOP ANTENNA SYSTEMS FOR AMATEUR
AND COMMERCIAL MACHINE USE

OUR VHF TRANSMITTING 4 CHANNEL COMBINER AND MULTI CHANNEL FILTERED VHF RECEIVER SYSTEM

OUR UHF TRANSMITTING 9 CHANNEL COMBINER AND MULTI CHANNEL FILTERED UHF
RECEIVER SYSTEM

A SIDE VIEW OF OUR LOW BAND 6 METER SYSTEM ON 53.210 MHz

OUR H.F. STATION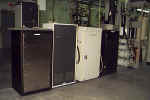 THE VHF REPEATER LINE UP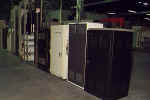 THE VHF REPEATER LINE UP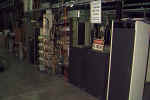 THE UHF REPEATER LINE UP

THE 6 METER DUPLEXOR AND RECEIVER FILTER SYSTEM HUNG FROM THE CEILING
I made almost 300 QSO's with 25 different sections within the country, I got some results in 160M that might be interesting for you to know. The antenna received very well to the Caribean, central and south america with excellent signals. One night was enough for me to have a lot of fun and discover that the antenna can be very useful even in 160M with no high noise level below the 1.850 there was no harmonic or images found at all. Reception was quite clean.

Home | News | Links | Photos 1 | Photos 2 |Tower Works | Radio Works | Site Specs
Site Drawings | Projects | Presence | Fall 1998 | Weather | Amateur Radio | Directions